This week I have taken a personal challenge and moved from behind the camera to in front of it and produced some Haktive videos. Yes a bit uncomfortable but with the notion of trying to re-engage some of the pupils I teach or to inspire others to have a go at something different, I felt it was important to lead by example. Not only that, I am learning how to video edit as well, which is a new skill for me (it's a slow and steady process but we're making progress) with so much more still to learn.
As fantastic as Joe Wicks is, some children are looking for something a bit different, which PE is, not just the same physical training, PE is so much more. It's about practicing fundamental skills that can be transferred to all sorts of activities, it's about developing the characteristics as an individual to keep trying, to embrace new challenges, to try something new and not be daunted. In simple throwing and catching games you are not only practicing those skills, if you do harder challenges it's how you embrace them, it's determination to want to get better, it's practice to get there, it's the highs and lows of winning and loosing, of coming back and keeping trying, perseverance, good sportsmanship, fair play, empowerment to feel good that you can do it and I haven't even mentioned all the health benefits! Have I convinced you how important it is yet? ;-)

Anyway I learnt something new and my son learnt something new too (how to embed the videos into the website). This feeling is quite empowering actually and one worth pursuing. It also relates to the 5 ways of well being to 'keep learning'. I'm not saying all new challenges work, like my gluten free scones for example - as hard as rocks - but most things are worth stepping outside our comfort zone and trying.
What are you looking forward to trying now or when Lockdown is over? Something new? Returning to something?

There is a saying - 'if you always do what you've always done, you'll always get what you've always got'. (Do we really want the same after Lockdown? Is now the time to look at our lives and decide if we do want them to go back as they were?)

Here are some interesting sites:
nhs.uk/live-well/exercise/get-active-your-way/ - NHS Live well
wanderlust.com/journal/why-you-should-try-new-things/ - Why you should try new things
bbc.co.uk/news/uk-28062001 - Which Sport are you made for?

I did the test and I'm pleased to say mine came out as Hockey - I've played since I was 7 years old and volunteer coach a junior section.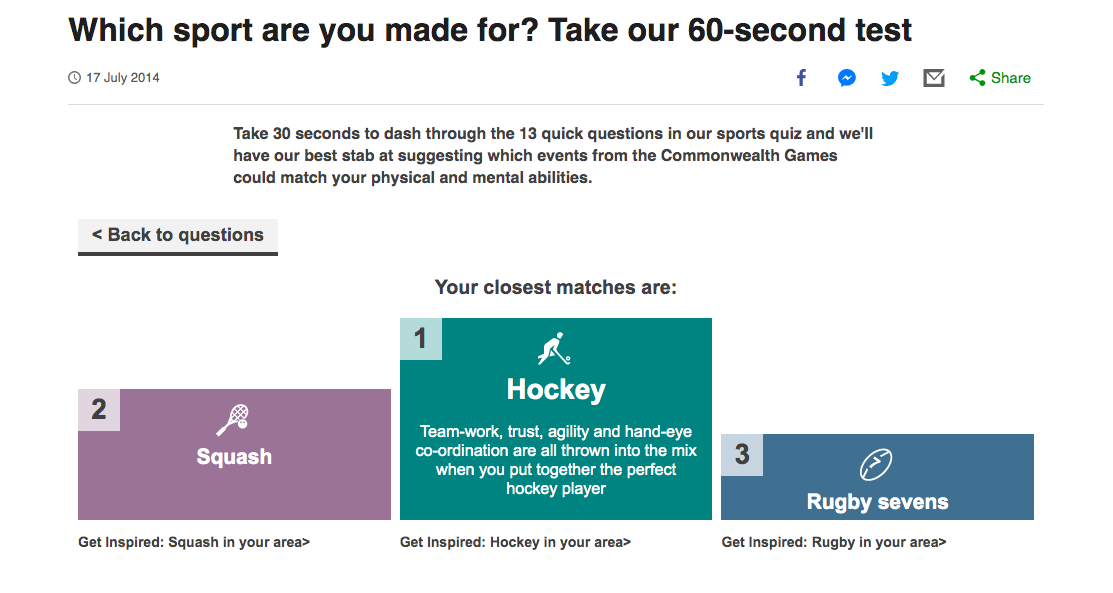 Some other active sites for inspiration:
You Tube - MICHAEL GINICOLA - youtube.com/user/nicholswinterfest/feed?activity_view=1
Chance to Shine (Cricket) - chancetoshine.org/staying-active-during-the-covid-19-outbreak#h_66039831311586267782474
Hip Hop Dance Steps - hhph.org/resources

I will be taking half term to reflect, I really appreciate your time in reading and hopefully par taking in the Haktive ideas and would love to know what you think. Your opinion is valued by us and I would really appreciate any feedback about the content or style of the newsletter, about the Haktive at home resources and now the lessons too. We want to be the best we can be for you, so please do let us know. Emma@haktive.com

If this newsletter was kindly forwarded to you, you can subscribe yourself here. https://mailchi.mp/4582f47d7cb5/haktive-newsletter

Stay safe and stay well